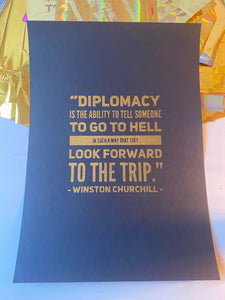 We are thrilled to introduce our unique, handmade & homemade poster prints. 
Quote of the most famous Winston Churchill: "Diplomacy is the ability to tell someone to go to hell in such a way that they look forward to the trip." -Winston Churchill
Velvety Black Paper Posters come in 2 different Colours:
Holographic 3D Rainbow Colour Effects & Pure Gold.
All of or prints comes in a A4 format. The are composed of a Black A4 Print in a plastic film and with a cardboard back to insure the print stays pristine. 
1. A4 Black Print with Holographic Rainbow Colourful Effects
2. A4 Black Print with Gold Prints
Please acknowledge that all prints are handmade & unique. It might be some tiny little perfect imperfection making them all different & special.
❥ Handmade & Fabulous Just Like You