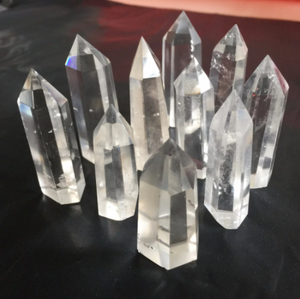 Description:
Fabulous Clear Quartz point.
Handmade - Hand-carved & polished.
Certified Real Clear Quartz
Clear Quartz is a transparent stone.
Please note that you are purchasing one stone.
Sizes & Measures: 
Around 70-80mm x 10mm
Crystal Properties:
[CLEAR QUARTZ - Kings of Crystals]

Amplifies energy, intention & supports other crystals.
Clear quartz is a blank slate, with focused concentration you can program quartz to help you accomplish your goals. Master of healer, clarity. Clean it regularly.
[Sahasrara Chakra = Crown Chakra]

Unique piece - Only one available so grab it while you can! ♥